From the design room...
Space-Saving Dining Solutions
October 2013, issue 3.0
Tired of getting creative with card tables when company comes for holiday dinner? Here are a few space‐saving items and tricks to help you get the most out of your dining furniture.
ROUND TABLES
+ Stylish and space‐saving, a round or oval pedestal table makes it easier to...

About Fischer Furniture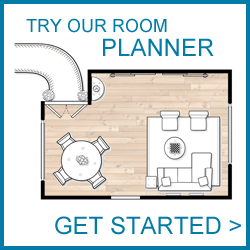 Fischer Furniture is a family owned furniture retail company in Rapid City, South Dakota. We specialize in creating beautiful homes for our customers, at the best prices. We want you to feel at home in our home.

Knowledgeable and helpful sales staff will guide you in your search for that perfect sofa fabric to make your living room come alive, or the most efficient washer and dryer to make your hectic life a little easier. Our website includes a room planner to help you make the most of your living space, and our low prices mean you will get beautiful rooms while stretching your dollar the farthest. So take advantage of our website to get your inspiration, and please visit our showrooms to see how we can help you turn your house into the home of your dreams.

© 2013
Fischer Furniture
1802 West Main
Rapid City, SD
605-348-5100